How To Be Efficient With Your Time in Amsterdam
Right now, I'm writing this as my little brother is all the way across the world in China - and I can't help but be a little jealous! He's there for his junior year Spring Break.. making the Cancun trip I took at his age pale in comparison. He's also so much fun to travel with - so putting aside the jealousy - it got me thinking about the trips we've taken as a family, and how I'm so glad he and I got a chance to do our own trip to Amsterdam a couple years ago. We'll both be graduated soon, and coordinating time off together will not be as easy. So with this appreciative state of mind, I wanted to put a little post together about our time in Amsterdam... and how we got the most out of 3 days on 2 wheels.
Accommodations:
Hampshire Hotel in Rembrandt Sqaure, Amsterdam
For our trip, we stayed in the popular Rembrandt Square. A couple of my friends recommended this area, and we were pretty happy with it. There was a lot going on at all hours, so there was never that "walking alone at night" feeling and we didn't have to worry about safety. My only complaint about this hotel in general was that unfortunately the rooms here were not well air-conditioned. So if you're going in the middle of the summer, read all the reviews you can about the air conditioning amenities before you chose your stay. Multiple times during our stay, I'd wake up in the middle of the night and find my brother trying to fan himself with the mini-fridge.
3 day General Itinerary
I put this general skeleton together before we went, and overall we stuck to it! We took this trip back in 2016, before I started writing everything down during trips, so our exact itinerary is hard to recall. Luckily I've always been an overzealous picture-taker, so where my memory fades, the photos mostly fill the gaps. Hopefully this outline helps you plan your trip like it did for me. I figure it's nice to know what activities are actually feasible to get done in a day, and what makes sense directionally.
Day 1:
Rijksmuseum (where the I Am Sterdam sign is)
Concert Gebouw (not really interesting (to me), but next to Rijkmuseum so worth walking by)
Vondel Park (awesome park that's great to bike through and have a picnic lunch)
Pieter Cornelisz Hooftstraat (shopping street)
City Canal Cruise (we actually didn't end up doing this, but I wish we would have)
Heineken Experience! (fun activity 1-2 hour, but living in STL with Anheuser-Busch I wasn't as excited about it)
Leidesplein (touristy, so check it out but don't eat here $$$$) / if you're into it: the Red Light District is close by
Day 2:
Ann Frank haus (also a WWII museum)
Jordaan Neighborhood (pretty canals)
Dam Square (beautiful old buildings)

Niuwe Kerk ("new church")
Koninklijk Palace (royal palace of Amsterdam)

Begijnhof Houses (didn't get to go here but it made a lot of must-do lists)
Oude Kerk ("old church")
Day 3:
Van Gogh Musuem
Boemen Markt (open air flower market - a must see!)
Amstel River/Park (road our bikes along it)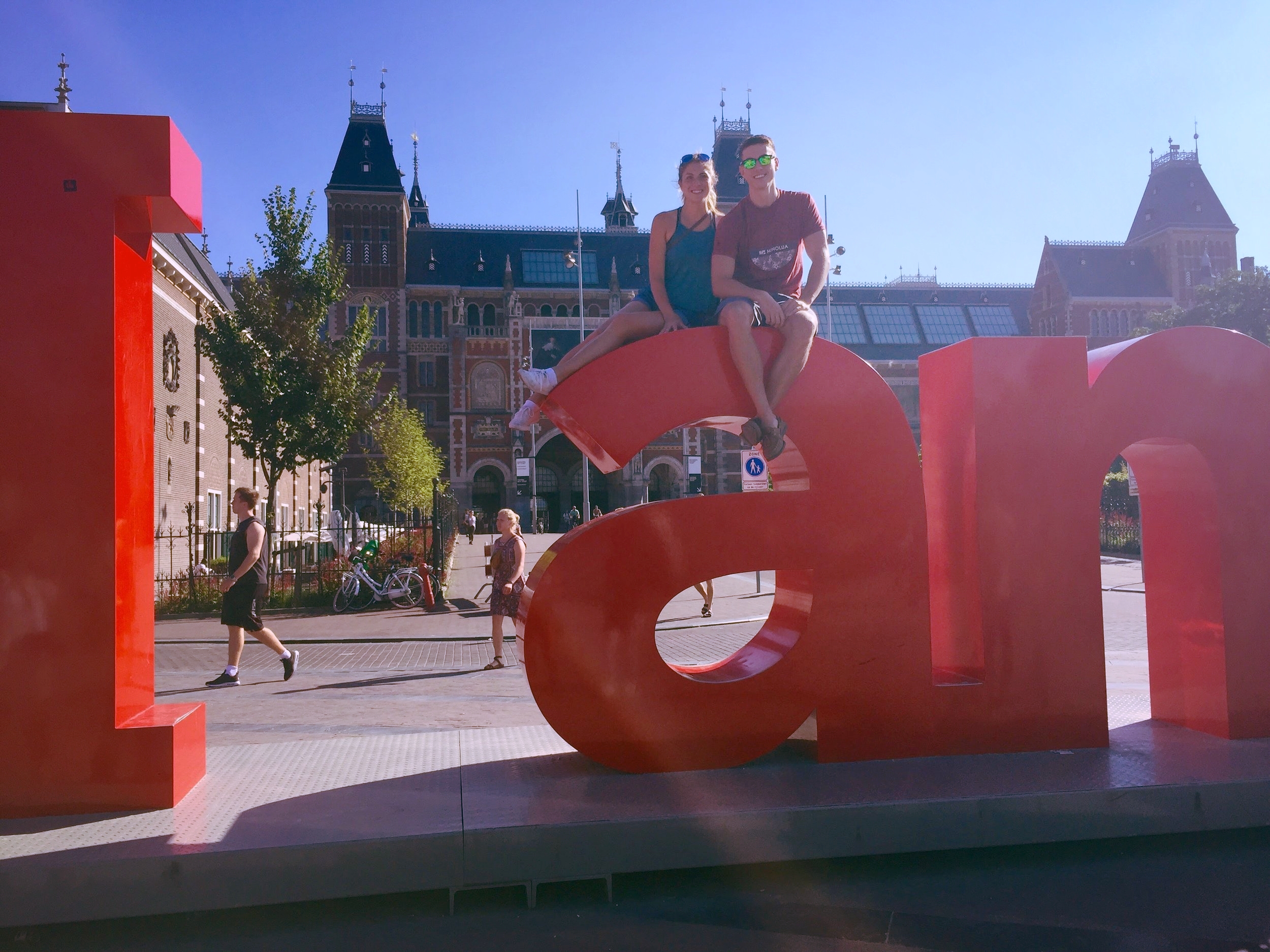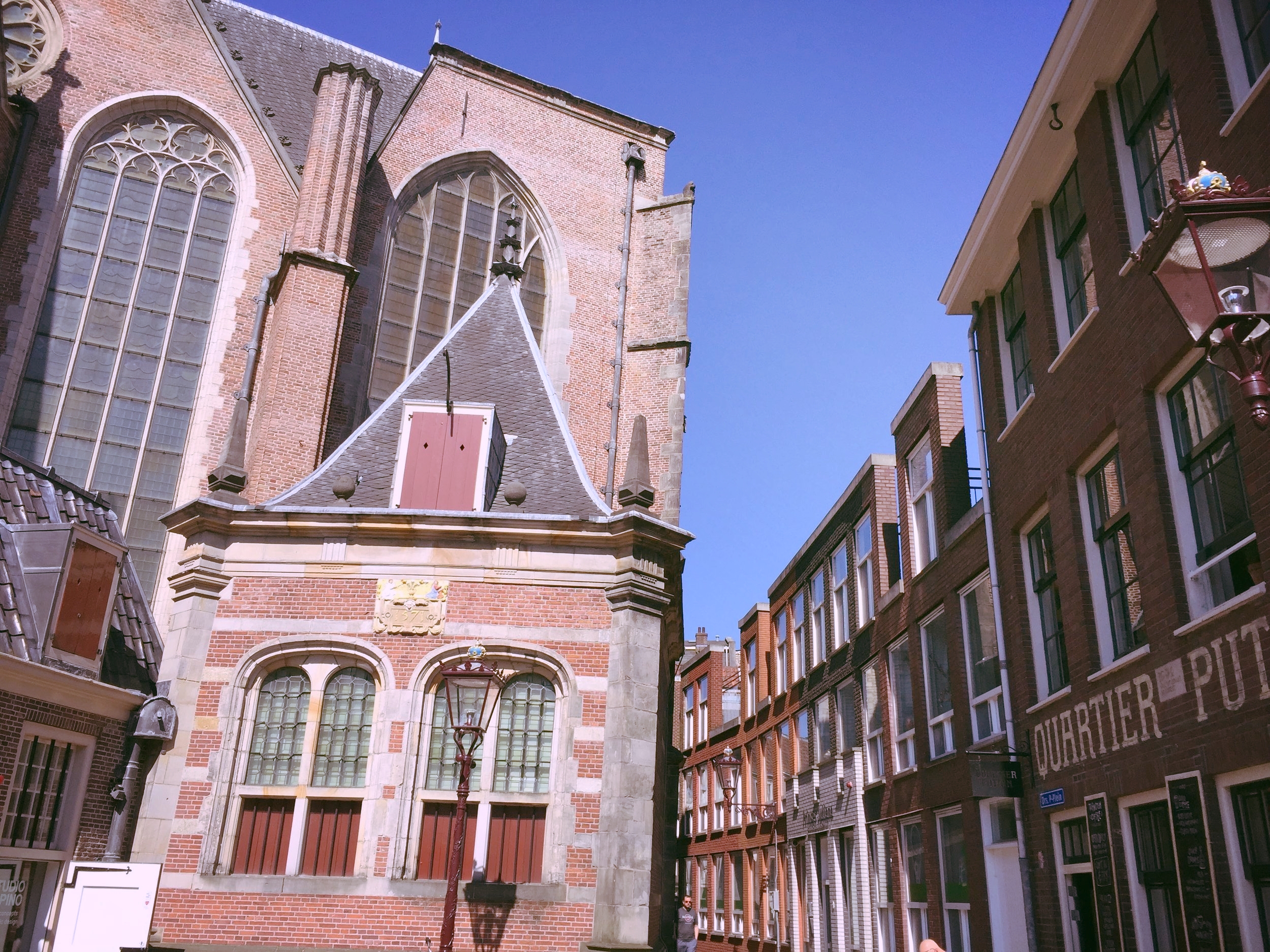 The best thing we did was hands down, renting bikes. As you may know Amsterdam is a biking city. Holland drivers are accustom to having bikers around (unlike the US) and there are always bike lanes. Having the bikes made getting from sight to sight easy and actually fun. We got them from this place The Good Bicycle, and the shop name didn't mislead. The bikes we rented were sturdy, new, and came with sufficient locks, which is unfortunately crucial in Amsterdam. Besides locking, the only thing that they warned us about was the tram tracks. If you ride over them, don't ride parallel.. your tire will get stuck and you'll fall. Ride perpendicular.
Every railing lining the canals had multiple bikes parked on it, adding just an extra layer of charm. The only traffic we really experienced was other bikers and pedestrians! Make sure that you don't walk in the bike lanes, people actually get pretty mad about it.
While we were there, we didn't prioritize food as much and spent most of our time exploring. At the time, I was eating vegan (anemia made me reintroduce meat), so my go-to was to find a good juice place (still is). These two places (Coffee & Coconuts and Lite Dark Juice) had great options. Plus, Coffee & Coconuts had a fun, tropical vibe.

What were you're favorite stops in Amsterdam? Would love to hear more !
more on micro to macro...