Year Round Buys: Black Jumpsuit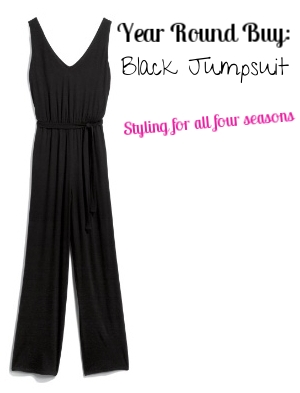 When it comes to dressing for an event, I unfortunately am someone who wants a new thing to wear every time. With all the weddings, cocktail parties, holidays etc that spring and summer bring, I decided to start doing RTR Update. If you're unfamiliar, each month, you get to pick four designer pieces (including accessories) that you then return at the end of the month. The monthly "updates" makes it super easy to follow the trends and to dress for events. It's only my first month and I feel like I've already saved money. So: with this in mind I've started to look for pieces that I can invest in and that can be styled to fit any season.
My most recent purchase was this Nine Britton cotton black jumpsuit from my Stitch Fix stylist. Swapping just two items can take this jumpsuit through the seasons, giving it a drastically different look. Plus: I'll feel like I'm wearing something new each time!
Spring
For spring, slip on a pair of pastel shoes and keep warm with a denim jacket for those transitioning months! I love the J. Crew one pictured here, though my go to denim jacket is from Banana.
Summer
In summer, anything really goes with this. You don't have to worry about keeping the shoulders warm, so adding a statement hat can elevate the outfit.
Fall
Fall can be hard to dress for with the chilly mornings turning into warm afternoons. This jumper can be paired with an easy cardigan and some transition booties.
Winter
In the winter, completely cover the top of the jumper with a cropped chunky sweater and throw on some fun boots.
Want your own? Sign up for Stitch Fix here for a free styling, and ask your stylist to send you this one! Or you can click through the similar ones I found below.