Long Winter Weekend in Aspen
Going to start this out by saying, I'm not a skier... so I have no idea what I'm talking about when it comes to that. But: I can tell you, that skier or not, Aspen offers something for everyone: from ritzy to quaint, adventurous to cozy, and healthy to indulging. One thing that it really isn't is cheap. Lucky for me, one of my best friends from college lives there now, so she was able to hook us up with local deals and discounts through in-town friends.
My boyfriend and I and another couple all flew into Denver early Friday morning, rented a SUV, and drove out to Aspen. We were planning to just crash at my friend's place that weekend, but when we got there she surprised us with a room at Hotel Jerome. As one of the top hotels in Colorado, the accommodation and location were unreal. We were right in the heart of town, a quick walk away from the ski lift, and had easy access to restaurants and bars.
Since we had our own tour guide, we did little to none of our own research before coming. We ended up getting into Aspen around 8PM - after making a couple cool stops on the way from Denver (see more on that here). We ordered espresso martinis to wake us up at the bar downstairs and hit Kenichi Sushi for dinner. I'm a big sashimi fan, so we ended up just doing a massive group order of all different types of sashimi and a couple rolls. The spicy edamame was also bomb. After dinner, we went to Eric's bar for pool. It has a clubby-vibe in the entrance, and then turns into a big game room. Apparently, you have to get there on the earlier side of the night if you want to get a table and play.
The next morning, we picked up our skis at Incline Sports Ski Shop. The rental process could not have gone more smooth, and the staff was super friendly. We could pick up and return at either location (Snowmass or Aspen), making it even more convenient to ski different mountains. They even have day-before pick ups for no extra charge to make sure you can get on the lifts first thing in the morning.
After a quick breakfast at my friends place in Snowmass, we got on the chair lift and took our first ride. I tried to stay on mostly greens, accidentally ended up on some blues.. but it was a beautiful day and I didn't fall tooo much. We took a mid-day drink break at Gwyn's High Alpine at the top of the mountain. This was my favorite part of the day, getting to sit and relax. Their bloody mary's stiffness for sure helped me loosen up on the next couple runs. Around 3:30 the lifts closed, and we all changed and headed straight for the hot tub, beers in hand. I don't know if I was so sore from falling or from using muscles I typically don't use, but I would say that a hot tub post-slopes should be mandatory for all new skiers. It wasn't bitter cold either, so getting out of the tub wasn't completely miserable. I may have slept in there if that was the case.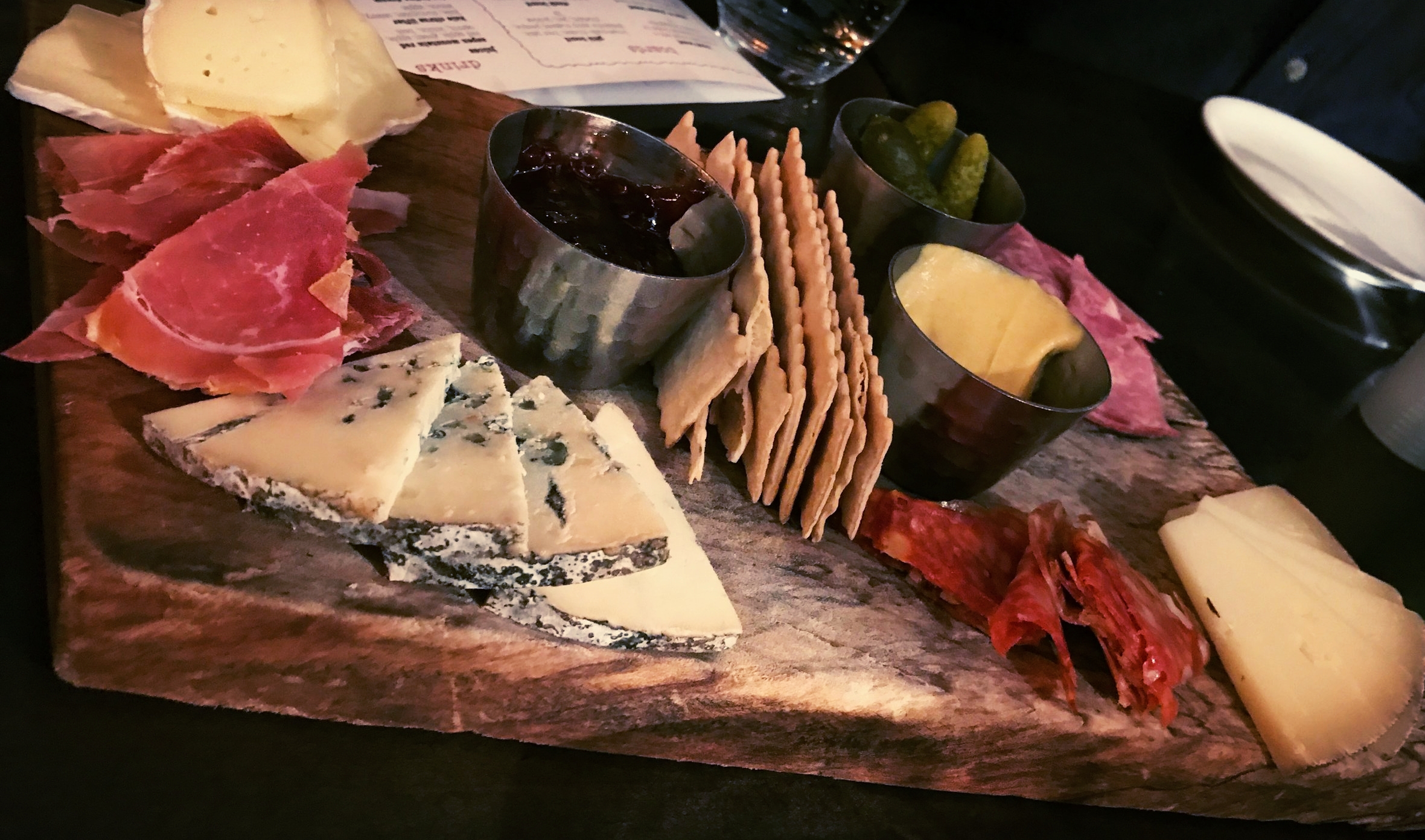 Dinner the second night was at a local favorite: Meat and Cheese. Being really big fans of charcuterie (aka glorified lunchables), my boyfriend and I loved this place. We had a round of their espresso martinis, which were super unique in that they made them with cold brew and without cream. My friend ordered a bunch of her favorite plates for the table (meat and cheese board, steak board, Vietnamese chicken noodle salad, rice dumplings, brussels sprouts, and short ribs). Everything we ate was amazing.. besides the cookie board we got for dessert. Some people liked it, but to me, the cookie tasted really smokey. ¯\_(ツ)_/¯
We bar hopped a bit after dinner, hitting Hooch right next door and Red Onion after that. Hooch had a lot of really interesting cocktails and a speakeasy vibe (like semi-hidden door, have to go to the basement after being let in by bouncer, dim lit.. etc). I love bourbon and lavender combinations so I got the Debonair which was Buffalo Trace and lavender bitters. After a steep bar tab, we opted for Red Onion, which gets packed with people because it's drinks are so much cheaper! We got jaded pretty quick and opted for an early night so that we could wake up early for more activities.
On the last day, the boys skiied Ajax, while the girls hiked Smuggler Mtn. The trail was a bit iced, but since Aspen hadn't gotten much snow fall this year, it was an easy and quick hike up to the look out. We weren't feeling like exerting ourselves too much, so we opted out of the longer 6 mile hike, and just did the 2.5 miles to the outlook and back. We grabbed juices from Jüs after, and rode the gondola up to meet the boys at the top of the mountain at Sundeck for lunch (day pass: $30)). I would absolutely recommend eating here, since the food is quick, cafeteria-style and decently cheap (they have made-to-order pad thai bowls that are amazing). After a long photo shoot at the top, we headed back down, and left for Denver.